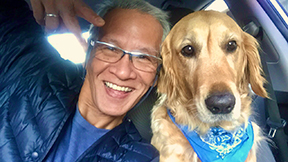 Wesley Thomas Wong is an award winning American portrait and documentary photographer from San Francisco, California. He graduated from the University of California, Berkeley with a major in Visual Design and after graduation interned briefly as a graphic designer for the Oakland Museum before taking an apprenticeship with well known east coast commercial photographer Jim Egan in Providence, Rhode Island. After leaving Egan's studio, Wesley began his own career in 1988 as a freelance photographer. He was a staff photographer for the Contra Costa Times newspaper, before before becoming a full time editorial and commercial photographer. His photography has been published in a wide variety of national and international publications (see client list below) and he has received awards and recognition for his photography from Communication Arts, National Geographic, American Photo, the National Press Photographers Association and the West Coast Magazines Publishing Association. In 2006 he relocated to Beijing, China to work as an English teacher while at the same time working on a personal documentary project about the country of his ethnic heritage. Wesley returned to the US in 2014, where he now resides with his family in San Francisco, California.
Publications and Clients (partial list):

Time Magazine, U.S. News and World Report, Newsweek Magazine, Associated Press, Reuters News Service, Outside Magazine, Atlantic Monthly, American Photo, Discovery Channel, The Photographers Companion (China), Maku Magazine (Finland), Discovery Channel, Wells Fargo Bank, Echoing Green Foundation, Hearst Corporation, Lescher Communications, Whittle Communications, U.C. Berkeley Hass School of Business, U.C. Berkeley Publications, U.C.S.F. Medical Center, Stanford University, University of San Francisco, San Francisco Examiner, Contra Costa Times Newspapers, San Francisco Zoological Society, Golden Gate University Law School, Plugged In.